The Telegraph, Brixton Hill, London presents –
TILTED DISCO
…set to change the mould of the ordinary Techno event, making our own tilted world to party in…….
This session:
ADAM X, One of New York's most influential underground DJs
DAVE TARRIDA, Joining us from Spain
COLIN DALE, UK Techno Legend
MAIN ROOM – TECHNO
ADAM X, New York, USA (Sonic Groove)
DAVE TARRIDA, Spain (Tresor Berlin)
STEVE STRAWBERRY (Tilted Disco, The Box, DicePeople)
TERRY MITCHELL (Dark House Music, The Box)
KODE – LIVE (Minasotta Phats)
BAR – ELECTRO & HOUSE
COLIN DALE, UK Legend (Abstrakt Dance)
WARM & TEAR – LIVE (Soft Digital, Lo-Pressings)
WAYNE D'MELLOW (Technological)
PAULA COUGHLAN (Topsi Turvi)
MILES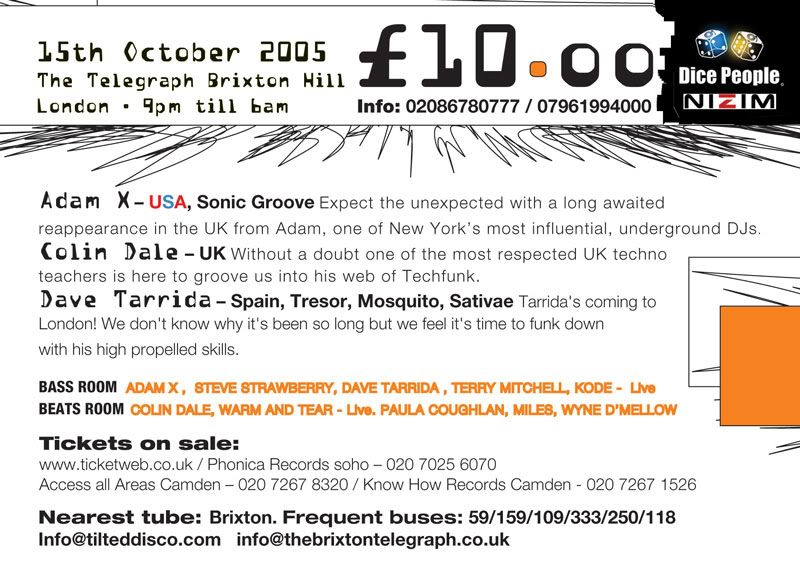 EXTRAS
20k of Martin Audio Sound, especially invited performers and variety of visual installations to enhance the tilted experience.
Date: Saturday 15 October 2005
Time: 9pm to 6am
Entry: £10 on the door Try and make it early to guarantee entry…
Tickets also available at:
http://www.ticketweb.co.uk
http://www.phonicarecords.com
http://www.accessallareas.org
http://www.knowhowrecords.com
http://www.eukatechrecords.com
THIS JUST IN>>>➡
If you can't make it on the night and have a puter handy you can join in by listening to the live webcast on
http://www.frequencyradio.org.uk
…MORE INFORMATION…
Adam X
Adam X is a DJ that Tilted Disco felt was unquestionably due to return to the UK. Adam & his brother (Frankie Bones) initiated themselves into the Techno world when it was a new and emerging genre. In April 1990 Adam and Frankie founded the Sonic Groove label and around this time hosted a series of underground warehouse events. The most famous of these was by far the legendary "Storm Raves" which featured up and coming (and now established artists) such as Sven Vath, Ritchie Hawtin, Damon Wild and Lenny Dee. Stemming from widespread DJ performances, support and promotion of fellow artists and contributions to live music and club culture, Adam X has become a historic icon in Techno and electronic music. It has often been said that a Techno event in the US cannot be considered "official" without the presence of Adam in its line-up. We look forward to hearing him spin…
COLIN DALE
Colin Dale was the man who lifted the underground scene and exposed it to virgin ears via his well known Abstrakt Dance radio shows. Colin stands on a 15 year electronic music podium which still carries him around the globe with his record box of undeniable funk. With new studio work on the way, this guy is not slowing down and we are glad of that as well as being proud to have Colin perform at Tilted Disco to ensure you a high-quality dance.
DAVE TARRIDA
Dave is a DJ that Tilted Disco is exceptionally pleased to have coaxed to London. Dave has had the honour of being a customary part of Berlins Tresor Club, untouchably the strongest Techno platform Europe has to offer. We thought he might have been hiding from the London scene, but turns out he's well up for it and we are well geared up for his set to ram the dance floor at Tilted Disco.
We look forward to sharing our night of tilted enjoyment and pure music with you…
http://www.tilteddisco.com
http://www.thebrixtontelegraph.co.uk