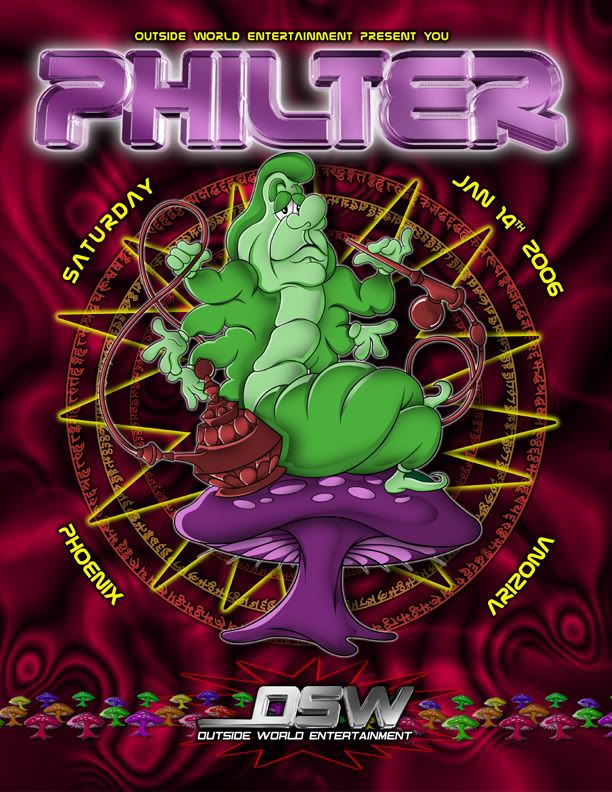 Saturday January 14th 2006
Phoenix, Arizona
Outside World Entertainment
Present You "PHILTER 2006"
Welcome to Outside Worlds next event! Philter 2006! Our last event was in collaboration with Swell/DTS Acid Reign 7! Which was a blast! We like to continue to bring you the beautiful vibes!!
Enjoy a night of phat beats! Get down and feel real good as we encourage you to enjoy the full spectrum of the electronic dance culture of House, Trance, Drum and bass, Hardcore, Breaks, Tekno and Hip Hop
This is celebration about positive open minded people coming together to experience great music and share the energy that exisits within us all! Join us for this peacful revolution!
So bring your friends and your dancing shoes!! Come
experience a beautiful night & dance your bootays off!
The Main Courtyard Breaks, Dnb, Hip Hop
Featuring: Jackal and Hyde LIVE!! There Back!!
Jackal & Hyde have been called "the purveyors of the hardcore-electro sound" (electro-core), a
combination of industrial laden electro beats, and psychotic keys. Jackal & Hyde was formed in
1998 by partners Scott Weiser, and Todd Walker in an effort to combine a harder edge sound with
the dancefloor sensibility of Electro and Breaks, and immediately became part of the
Hallucination Recordings family at their inception. Besides their original work, Jackal & Hyde's
sound has been requested for multiple remix productions including Kid Rock, Limp Bizkit, Love &
Rockets, and Genitorturers. Scott Weiser, who is most recognized for his work with Dynamix II
(who have written such dancefloor classics as "Give The DJ A Break" and "Feel The Bass") has
been writing and producing dance music for well over a decade. Scott's influences range
anywhere from classic Industrial to ancient Electro, while partner Todd Walker's influences come
from Miami Ghetto Bass and Industrial Dance. As Jackal & Hyde, Scott and Todd push the
boundaries of dance music and set the standards for a new era of Electro/Breaks with classic
songs like "Beyond", "Go-Bang", "Seek & Destroy" & the cult classic "Get Down to my
Technique". More recently their hit song "20k Freaks" is keeping party people dancin' all across
America and has appeared on Dj Icey's latest endevour "Essential Breaks". Their songs are easily
recognized by club goers all across the Globe and have appeared on many dj mix cds and
compilations. Jackal & Hyde have released a limited edition Album "The Badlands" (Hallucination
Recordings – 2002) and will be releasing an upcoming compact disc entitled "Hollywood Dreamer"
due out on Hallucination early 2003. Their live shows are notorious for sonic energy, cutting edge
visuals (Hallucination On Film), and crowd moving original beats non-stop.[/size]
Lego (Illektrolab.com)
Michael (DTS/100% Natural Groove)
Louder (completedj.com)
Pac D (Ibb)
Em3 & Grapla (Osw & Eastcali Crew)
The Silver Room
Trance/House/Harddance
Featuring DAVE 202!!
Direct all the way from Switzerland!!First USA Appearance!!
Hard Trance guru!! DAVE 202!!
The Beginning of Dave 202
Dave202 organized hardcore parties and cooked up all sorts of crazy events for his friends in his
local YMCA in Wädenswil for about three years. Soon his fame spread across the narrow borders
of the sleepy town. Among others, the folks at Tarot showed interest in him and in 1994/1995 he
joined them as a member at Grodoonia, the club they then owned.
Joining the Tarot family reaped almost instant benefits: in practically no time his great
enthusiasm, combined with the know-how of the Tarot Crew got him bookings throughout
Switzerland. Soon he was a main act at such big-name events like the Orbit and Goliath Parties.
The regional papers and magazines hailed him as the new star of the techno scene. Clubs in
Germany and Austria started asking about him. Dave202's career was going in the right direction.
What's so great about this native Italian is that his success hasn't spoiled him at all. Employers,
party guests and colleagues alike all love him for his easy, friendly and down-to-earth attitude.
The 29-year old spends a lot of his free time in the clubs and he is always up for a chat. He is one
of the DJs who lives for his music and wants others to share his enthusiasm and pleasure. His
positive energy infuses his music and directly affects the party guests.
Streetparade 2000 and other CDs by Dave202
Dave202 published his first own production in May 1998. It was the Latenight Compilation Vol. 1
of Oxa Club, where he has been a resident for the last couple years. Dave202 selected the tracks
himself and did an insanely good live mix. At that time he started collaborating more and more
with the producer Ivan L. a.k.a. Phil Green. 2000 was a fabulous year for Dave202. In spring, the
Futurescope-CD Vol. 14, mixed by him, was released. And then in summer his career really
started to take off.
Right on time for the Streetparade 2001, Dave202 and Phil Green released the summer hit "At The
End". This killer track made a huge impact and was played by almost every Trance DJ in Europe
and was one of the most power-played tracks of the parade and the numerous after-parties.
Dave202 played a wicked set at the Energy Party at the Hallenstadion in Zürich-Oerlikon, the
biggest and most popular indoor party following the Streetparade.
Dave202 and Phil Green landed another major hit with their remixes of DJ Noise's "Sibel".
The Japan Story
But there was another reason to be happy. Dave202 and Phil Green got fantastic feedback from
the Far East for their track "At The End". Apparently, this title is the it-track with the Japanese
trance scene and soon enough the Tokyo-based band ELT (short for: Every Little Thing)
asked them to do a remix. So Dave202 and Phil Green hurriedly started working on their remix of
"Someday, Someplace", and their rendition turned out pretty damn good. "Someday, Someplace"
climbed the charts at supersonic speed and was a massive club hit in the Far East. ELT sold more
than a million copies of the CD that contained the remix. So it came as no big surprise that
Dave202 was invited to represent Switzerland at the renowned mega rave "Avex Trance 2002" in
Tokyo. Dave202 accepted the invite and performed for 35,000 euphoric trance fans on the main
floor of this impressive monster event together with world-wide top acts and DJs like Ferry
Corsten, Rank 1, Johan Gielen and Hennes&Cold. The atmosphere at this rave – whose perfect
organization of each and every detail can be compared to a U2 concert – gained more and more
momentum and culminated as Dave202 started playing "At The End" which sent the electrified
crowd into a total frenzy.
At the following gigantic professional media conference Dave202 won the hearts of the Japanese
journalists with his open and friendly manner. Dave202 clearly made his mark in the Japanese
scene and already enjoys cult status over there. Dave202: "I am very honored." And the engaging
DJ has been showered with requests by Japanese artists ever since.
End of 2002 Highlights
An additional highlight in Dave's career was the Judge Jules Night at OXA in August 02. All of
Switzerland's media was reporting about this monster event at which Dave202 got to spin
alongside Judge Jules. By then Dave and Phil Green's Hijacker Track as well as "Living on the
Edge" had already been included in Judge Jules' play list for quite some time.
"Dave202 and DJ Noise GO CRAZY" – when Dave and DJ Noise joined forces it resulted in this CD
which received rave reviews for both its aggressive beats and its soothing sounds.
Dave202 released his third own album called "Legends" in fall 2002 which instantly shot to 14th
place in the album charts. And the German Top Act Green Court made a remix of the title track,
"Legends". At the same time, Dave202 and Phil Green's remix of DJ Shog's mega-hit "2nd
Dimension" started to take off.
In mid November Dave left the record label TBA to join music distributor MV and Claude Bravi
took over as his new A&R manager.
Knowing that Dave and Phil Green are the founders of SHOCKING RECORDS, you may expect big
things from this label. Their first release "Tempest – Sounds of Life" (Dave202 and Phil Green
Remix) was a killer club and sales hit. Watch out for forthcoming releases.
The time for their first Live Act had come on November 23rd. Dave202 and Phil Green performed
live for the first time during the Major Dance event at Oxa. Dave handled the deejaying while Phil
Green was in charge of sound engineering and production – they treated the audience to a fine
combination of live act and DJ set, serving up a fresh mix of live sounds and records. Their live
act came close to perfection and they received extremely positive feedback.
In the mean time, Dave202 has rocked the crowds several times at Liquid Club in Madrid – and
the Spanish Trance Fans can't get enough of him. The Spanish capital will be sure to get its fair
share of Dave202 at future parties. He is also a very welcome guest at Bachatta.
2003: The Power Year
Dave202 played a mean set on New Year's Eve during the Evolution event in the ABB halls in
Zuerich-Oerlikon, but he was on a roll and managed to outdo himself by spinning an even tighter,
ultra memorable gig on New Year's morning at Oxa during the legendary After Hours.
Shortly before Easter OXA organized the "Tiesto Night". That memorable evening in spring
Dave202 played on the main floor alongside the Dutch megastar and the event was a full-blown
success.
The Streetparade usually involves a lot of stress for a DJ, but Dave remained calm like the true
pro he is. He rocked the Mainstation with his two sets at the hall of Zurich's central train station
and his was one of the most anticipated sets at the Energy, where Dave played alongside
superstars like Paul van Dyke. And we would like to remind you that in addition to his gigs, Dave
was also playing a major role in the Mainstation DVD that was being shot live. He had to stop on
and off in the middle of the huge crowds and do announcements and interviews. His efforts were
highly rewarded with a DVD that proves that Trance is still very much alive.
This fact is further proven by the huge success of Dave202's producer Phil Green who also
produces in his own name. His track "Tribal Trance" is featured on the play lists of many a great
DJ and even Paul van Dyk promoted the track during his radio show and his sets. Furthermore,
Phil was asked to mix the Streetparade Live CD. There is no need for Phil Green to prove his
talent – he has already earned everyone's respect with his unique productions.
The Decibel Outdoor Festival in Rotterdam, Holland, was the next massive event where
Dave202's presence was requested. His wicked set in the Hard Trance tent (hosted by "Beat
Please") attracted a lot of new Dutch fans. His fan base has grown immensely, just check out
http://www.dave202.tk to see it for yourself. One of his biggest admirers put together the first Dave202
Fanpage, and to our knowledge Dave202 is the first and only Swiss Trance DJ who has his own
fan page.
Dave202 is also well known in the remix business. He did his latest remixes for the German
legend Talla 2XLC, for Cosmic Gate, DuMondel and Freestate. In addition, he also remixed the
Decibel Outdoor Festival Anthem.
In September 2003 Dave202 released his new album "Destinations". It was a true artist album,
featuring his own tracks as well as a couple of his producer Phil Green's and some of their jint
remixes. Of course all these tracks flow in Dave's signature-style mix. Besides his brand-new
single "Destinations", the album includes five more tracks by Dave202, which all bear huge
potential and are already sought worldwide by labels and DJs alike. The long hours in the studio
really paid off: "Destinations" is a hugely unique album with top tracks that will not only appeal to
die hard Dave202 fans. The new "Destinations" video clip is already being power played on all
major music channels.
Nth (Dts/100& Natural Groove, Phx/Los Angeles)
Citrik (Outside World)
Sonique des Fleurs (Dts/100& Natural Groove)
Charlie (Ravepictures.net, San Francisco)
Detale (Conspiracy Of Hope, 9th Gate)
Ray Ray (Hardcoredreamer.com)
The Cathedral – Misc stage.
Hardcore/Dnb/Harddance/Trance
Starr & Sixxx (Evilkandee.net)
Rhinox (Surreal)
Frequency & Admyer (Open)
Nexone (DRP, Azhardcorejunkies.com)
Matt Dunn (Frequency 8)
Phonik (MixN'Blend/Vicious Circle) – Phx
The 411
Events starts at 9pm and goes all night!
The event will be held at the Legendary Icehouse
Indoor/Outdoor
Fully legal permited venue
429 W. Jackson, Phoenix AZ,
Please bring your ID's
Mind Melting Visuals (TBA)
Lighting by Swell Pro Audio
Art Gallery by Mykil Zep
GOD Sound! Pulse Pounding Sound!!
Free parking
Beer Garden from 9pm- 2am for those that are 21+
Food Village – Providing Hotdogs, Energy Drinks, Water, Pop, Hot cocoa & More
Free Give aways all night long!!
For info on timeslots and more please visit philter2006.com(coming soon) or azinfoline
15.00 Pre-Sale tickets through January 13th 2006
20.00 Day Of till midnight
25.00 After Midnight
Rain or Shine
Info Line # 602-357-1072
Ple-sale tickets available at Swell Clothing and Records
Or online philter2006.com(coming soon) (just print your reciept and will have list with your name on it)
Suggestions:
*Carpool
*Respect yourself and others
*Party responsibly
*Know your limit
*Bring warm clothing
Do's
* Photo Cameras allowed
* Positve Vibes
* Dance your asses off
Dont's
* No Backpacks
* No Weapons
* No Bad vibes
* No Drugs
* No Markers
Full staff security will be there for your protection
Interested in promoting? having a booth?
Contributing art/dance?
Contact us osw@deserttrance.com
We encourage you to visit
http://azinfoline.com
http://deserttrance.com
http://drumcore.com
http://mindblownsound.com
http://azhardorejunkies.com
http://completedj.com
http://arizonabpm.com
http://ibbdjcamp.com
http://swellrecords.com
http://djrhinox.com
http://djdetale.com
http://www.frequency8.com
http://www.dave202.ch
http://www.hallucination.com/_subsites/jackalandhyde.com/
We would like to issue a special thanks to the following : Paul, Ruben, Becca, Scott, Max, Dexter, Minny, Tom , and all of those who help keep our scene alive, thriving and true!!
This post has been edited by djCITRIK on Sep 29 2005, 01:35 PM

---